Midnight or early morning, cravings don't have time!!! It just swirls you around with a
crazy musical night in your belly. But what if you fade this craving off with a highly rich,
traditional sweet known for its South Indian legitimacy – The beetroot Mysore Pak. For
the foodies out here & wild guessers assuming what's this dish is all about, lets just
rewind the "PERIOD"
Long… Long …ago … So Long Ago….. !!! Oops, let's take just jump to the Hero of this
content directly. In between are you worried of where to buy Beetroot MysorePak online? The answer is in the blog defenitely.
Mysore Pak as the name implies originates from Namma Karnataka,
prepared specially to serve the King Krishnaraja Wadiyar. Our customers aren't less
than any King. Hence, we prepare with the same Legitimacy. Just as the freshness of the
first drop of rain in a dry soil, we hold the freshness of this beetroot Mysore Pak without
altering the authenticity of the dish. Yes, you heard us LOUD & CLEAR – we use only
natural products to make this dish lively and healthier, so all age group can enjoy the
pleasure of devouring it. There are no preservatives, artificial colors, significantly NO
SUGARS. So cheer up calorie checkers break, lets break free & enjoy this heavily savory
with no guilt.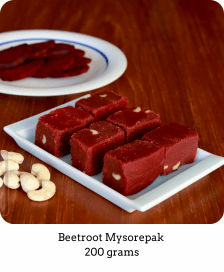 Making of the delicacy

Let the royal kitchen , began the making….!!!
The halwai's roll up their sleeves & stand pride as they tie their turban's high headed to
extract the beetroot syrup. This erotic red syrup is added with the melted &
caramelized brown sugar to add richness to the flavor. The halwai's roll up their sleeves
& stand pride as they tie their turban's high headed to extract the beetroot syrup.
By the time, these are getting ready to rock the show, on the other hand the besan is
added gently and softly like the Christmas flakes on the ground ,to a heavy iron kadai.
Mesmerizing, isn't it?? Please hold, as we have a lot to travel in this fantasy world.
The aroma of the beetroot syrup, brown sugar & besan hugging each other makes you leave
the world for seconds & feels godly. The excitement hypes up even more when all these
ingredients melt on the flowing buttery Ghee. Just like the fashion Queen of Bollywood
– Sonam Kapoor is elegantly dressed, all these ingredients molds the mysorepak gets
into a high fashioned rectangular shape, making its own style statement.
Wait, we just missed one special guest – The saffron which shines like the crown on the mysorepak.
I know you must be wondering how to grab this flavorsome dish. That's why I am here
to give you an apt and hassle-free solution, just order online and enjoy at your
doorsteps!!!
To buy Beetroot MysorePak online please visit www.bikeskart.com for orders via prepayment or COD.
Stay healthy, serve healthy to your friends and family by your orders for a happy and
happening future.

Blogs by Sridevi
Story of a home-pruner for aspiring
home-pruners
Follow me for more content