Imagine a breezy climate with hot tea in your balcony, isn't it dreamy!! But this moment is not fulfilled with a cup of spicy mixture that goes well at your tea break. Buy crunchy, flavorful mixtures from biteskart to add value to your daily diet. Biteskart, as trusted by you uses no colors or preservatives. It is a recommended brand for all age groups. This famous south Indian snack is now a favorite snack in every street of the country.
Ingredients:
Besan
Rice flour
Turmeric
salt
Chili Powder
Asafetida
Curry leaves
Cashews
Peanut
Green grams
Refined oil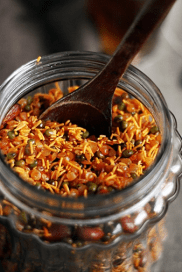 Description:
Besan is mixed well along with adequate amount of rice flour, asafetida, salt, chili powder, turmeric powder. All these ingredients are enfolded well with each other.
The mixture is now blended well and forms a soft dough. This dough is then set aside to be fermented.
Once fermented, they are now added into a mold with tiny holes in it. The mold plays a major role in giving a perfect shape to the mixture.
Through a gentle press from the mold, the dough enters the hot oil and are fried to the crispiest form.
Fried cashews, peanuts, curry leaves and roasted grams are added to the friend mixture giving it a flavorful taste and aroma.
Buy this tasty south Indian mixture at https://biteskart.com/, and get it delivered at your doorsteps.
Health Benefits:
Source of energy and good carbs.