Remember the days when all if us have played with murukkus, as finger ornaments and roaming around the streets, enjoy this crunchy snack with friends. At biteskart, we offer the best of these Andhra Murukku from Mani Mark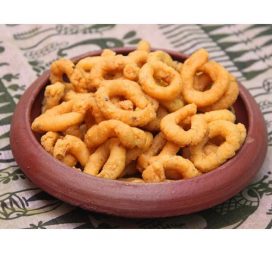 Ingredients
Rice Flour
Urad Dal Flour
Moong Dal
Butter
Turmeric Powder
Chilli Powder
Peppercorns
Jeera
Hing
Salt
Refined Oil
Description
Boiled the Moong dal along with some butter and smash it to a smooth consistency.
The smashed moong dal required amount of Turmeric powder, chili powder, peppercorns, jeera, hing, salt are added to a boiling water pan.
Finally rice flour and Urad dal are also added to this mixture. They are all blended until the batter forms a smooth and non-sticky consistency
This batter is now made into thin strips by hand. Grease your palm with oil to roll thin strips and make circular rings by connecting the edges of the strips.
Heat the refined oil in a kadai and deep fry these circular rings to enjoy this crunchy Andhra snack
Order Andhra Murukku online at https://biteskart.com/ to enjoy this delicacy made with same authenticity.
Health Benefits
Boosts Immunity
Improves digestion