Imagine a long and tiring day ending with a hot plate of rice vaporizing the steam with creamy rich ghee and flavorful curry leaf powder. This brings out the child in you who might had this traditional powder in backyards of your grandma's home during your school vacations!!! Some memories are always refreshing, so do the handmade recipes of this kind. Though simple, yet tasty flavor of this powder is the best combo with rice, idly or dosa.
Healthy Ingredients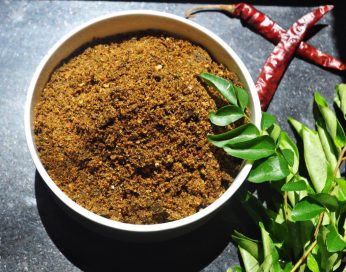 This magical powder not only adds health benefits such as relief from nausea, vomiting, diarrhea. It also helps in hair loss, benefits good eyesight, provides relief from skin eruption and burns, diabetic friendly, increases iron and much more. Well, our grandmas secret recipe is all set to be explored by us through your orders online via https://biteskart.com/
Recipe
Ever wondered how this tasty recipe is made, lets go back to that PERIOD to unleash the best to come.
Fresh curry leaves are rinsed in a water along with rock salt to rid off all the pesticides. They are again washed well and spread evenly in a cotton cloth until all the moisture is removed off. Once the moisture dries up completely, the masala is being prepped. In a kadai, chana dal, urud dal, red chillies, adequate amount of salt, tamarind, Asafoetida and Curry leaves are slowly roasted until the color changes to golden brown. This roasting fume an aroma that pinches the stomach with hunger.
Order curry leaf powder online and enjoy this age-old traditional recipe with family, friends and make time to relive the old memories.