What can be more delicious than your favorite Barfi, when it comes with a fusion of your bet ingredients. Yes, at biteskart we serve your favorite mix of almonds and peanuts in barfi, by manimark. It's serves you as a pocket friendly snack of you at your time of huger.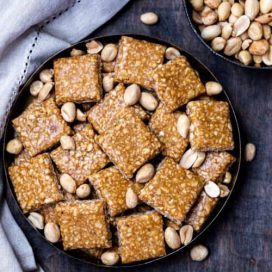 Ingredients:
Peanuts
Almonds
Ghee
Cardamom
Jaggery
Description:
Peanuts of good quality are finely roasted in an ample amount of ghee until a mild aroma evaporates.
Once cooled, these peanuts are coarsely grinded and mixed along with refined boiling jaggery syrup and are blended well.
A pinch of cardamon and ghee are added to sparkle and mold them perfectly in shape.
Once it cools down and settles, they are then cut out in desired shapes with almonds in center as a perfect piece of cherry on the cake and served in concealed packs at your favorite store – biteskart.
Order online immediately at https://biteskart.com/ to enjoy this fine peanut almond barfi with friends and family.
Health benefits:
Improves Hemoglobin and anemia
Rich in Iron, Magnesium
Diabetic friendly
Strengthens bones