Sesame balls, or Thil ka ladoo is known for its abundant health benefits. This dish is part of important festivals like Sankranti in India and a famous go to snack for all 80 's and 90's kids.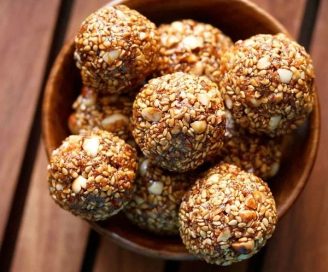 Ingredients:
Sesame Seeds
Jaggery
Peanuts
Description:
Sesame seeds are soaked overnight, cleaned, and removed off from any dust or husks.
It is then dried off until the moisture is removed completely.
Once dried, these are then roasted in low flame until popped and a mild aroma spread in the environment.
Similarly, peanuts are roasted in kadai.
The roasted peanuts are added in a mixer and coarsely grinded.
The grinded powder is blended with required amount of refined jaggery syrup part by part so they can be enfolded into the shape of circular balls.
These are now ready to be served and melt down in your mouth.
Order sesame seed balls online at https://biteskart.com/ to enjoy this delicacy made with same authenticity.
Health benefits:
Regulated blood pressure
Stimulates bone growth development
Good source of Vitamin B
Rich in fiber, minerals, healthy fats, and antioxidants